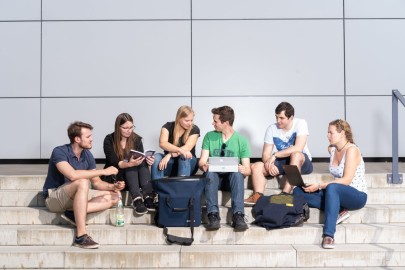 We offer:
Studying automotive technology in Germany, where the automobile was born and most of the premium cars are developed and produced
Studying at one of Germany's best universities for mechanical engineering
Experiencing the cutting edge of automotive research
Execution of a research project together with German students
And furthermore:
Global experience
The opportunity to travel within Europe
More free time during following semesters – for leisure or to focus on your research
Becoming acquainted with the German culture
The program consists of three automotive engineering classes (Automotive Development Trends, Advanced Design Project, Tutorial Automotive Engineering) and some cultural supporting program. Start in Germany will be on May, 16th, 2022. The overall duration of the program is 11 weeks and therefore the program officially ends in the evening of July, 29th, 2022. Afterwards, you will have time to travel around Europe before the fall semester in the US begins.
Classes
Automotive Development Trends is an extension of the knowledge about motor vehicles through lectures on current research topics of FZD's scientific employees, as well as field trips.
Advanced Design Project is a team project about an automotive topic. For example, tasks of the last years were the construction of a part for Darmstadt's Formula Student Racing Team or helping with environment perception sensors in our "Automated Driving Darmstadt for Students" project.
Automotive Engineering Lab is a combination of lectures and experiments. In experiments theoretical knowledge is put into practice.
Classes will be held in English, so that German skills are not necessary. Nevertheless, if you want there will be plenty of opportunities to learn some German.
Research at FZD
Research at FZD comprises six fields:
For the Driver Assistance Systems, the focus lies on the environment interpretation and the functional development. Innovative overall designs are worked out for the assisted future driving as well.
In the field of Vehicle Dynamics, driving dynamics control systems and different functional units of the chassis are investigated, particularly steering and semi-active suspension. The tire research has a long tradition at FZD too; whose best-known result is the Darmstadt Tire Sensor.
The Motorcycle research represents a specific feature since FZD is the only university institute in Germany which can look back at a long tradition in this area. The stabilization assistance is the focus of attention of the research.
The field of Safety comprises the development of new active safety systems and the analysis of the resulting test requirements.
Another traditional area of research is the Brake Technology and the permanent development of this complex system.
The sixth field of research is the development of Test Methods, as e.g. EVITA for testing active hazard braking systems.
Darmstadt and TU Darmstadt
Darmstadt is a city with 150k inhabitants and about 30k students. It is approximately 35 km (22 miles) south of Frankfurt. You can reach many exciting areas of Germany and of Europe easily. Technische Universität Darmstadt (TUDa) is one of Germany's best universities for mechanical engineering, as confirmed by all known rankings.
More information about the city of Darmstadt: Homepage of Darmstadt
More information about Technische Universität Darmstadt: Homepage of TU Darmstadt
Housing, Insurance, Estimated Costs and Visa
Automotive Engineering Summer students can enter Germany as a tourist and stay for 90 Days without applying for a Student Residence Permit (Student Visa).
In contrast to the US or Canada, we don't offer on-campus housing but off-campus housing will be organized for you by our Office for International Relations.
The overall program fee is approximately around 2300 € (2800 USD / 3600 CAD) including:
Course program
Organized housing
Public local transportation (almost the whole state of Hessen)
Several social events
1-2 organized trips within Germany
More Information about this is provided by our Office for International Relations (opens in new tab)
Additional Information
You are interest in AESG an want to learn more? Or you are maybe already nominated and want to get all the detailed information?
Application Process
For more Information about the application process please contact your study abroad office
VT Students
Virginia Polytechnic Institute and State University
Global Education Office
Maureen Deisinger
526 Prices Fork Road (0378)
Blacksburg, VA 24061
Email: vtabroad@vt.edu
UIUC Students
University of Illinois at Urbana-Champaign
IPENG
Meredith Blumthal
International Programs in Engineering
3300 Digital Computing Lab
1304 W. Springfield Ave
Urbana, IL 61801
E-Mail: ipeng@illinois.edu
UB Students
University at Buffalo
Office of Study Abroad Programs
Karen Joppe
201 Talbert Hall
Buffalo, New York 14260-1604
E-Mail: karentho@buffalo.edu
UBC Students
University of British Columbia
Go Global: International Learning Programs
Lucy O'Regan
Office of the Vice-Provost, International
UBC Life Building, 1100-6138 Student Union Boulevard
Vancouver BC V6T 1Z1 Canada
E-Mail: go.global@ubc.ca