Today's FS concepts thus have reached a limit regarding the achievable quality of motion simulation, which reduces the extensive use of DS for the development of driver assistance systems, especially in urban environments. FZD is therefore investigating a new concept that replaces rail systems with driven and infinitely steerable wheels which accelerate the DS's movement platform. With such a mobile tire-bound DS, there is the potential of enabling a high immersion quality and extensive representability of traffic scenarios at considerably reduced costs. The range of motion can be flexibly adapted to the requirements of the scenario to be simulated, whereby, for example, comprehensive scenarios can be simulated on large driving dynamics surfaces of test areas.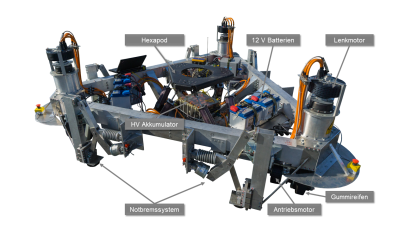 A simulative and prototypical development environment for omnidirectional motion concepts of an FS platform was created within the framework of a project funded by the German National Academic Foundation and the German Research Foundation (DFG). The research platform MORPHEUS (Mobile omnidirectional platform for highly dynamic, tyre-bound driving simulation), which was developed within this framework, was put into operation for the first time at FZD on 4 February 2015. The basic feasibility of the new concept was proven in simulations and tests based on objectively measurable criteria.
Based on the previous research results, the MORPHEUS project will be continued. The development of a demonstrator suitable for test person studies is planned until 2022. The aim of the project is to validate that the FS also proves itself in subject studies and that at least the same or even higher immersion quality compared to the current state of the art is achieved at significantly reduced costs. For this purpose, a platform enlarged by a factor of two including driver cabin and simulation environment will be developed and set up. Further steps are the investigation of suitable drive, control and regulation concepts as well as the development of an integral safety concept for the safe execution of test person studies.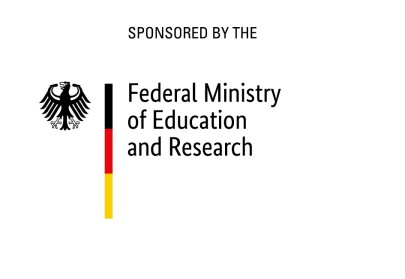 The research on this topic is supported by international experts from the field of driving simulation in form of a research committee. The project is funded by the Federal Ministry of Education and Research (BMBF) within the framework of the funding measure "Validation of the technological and social innovation potential of scientific research – VIP+".